Punjab University Under Fire for Denying Visually Impaired Student Right to Admission
Punjab University, a renown university of Pakistan as well as around the world, has come under fire. It has been revealed that a visually impaired student was denied her rights to admission in the university on the basis of her disability.
The student Kinza Sajid, in an online interview recalled the story of her entry test and the unprofessional and rude behavior by the management of the department.
The young student also revealed that management of the Department of Clinical Psychology insulted and misbehaved with her during her entry test.
Here's the gist of her interview
"FEW DAYS BEFORE THE TEST, I REQUESTED THE DEPARTMENT TO PROVIDE ME WITH A QUESTION PAPER WITH A LARGER FONT BECAUSE OF MY EYESIGHT AND THEY MADE A HUGE ISSUE OUT OF IT"

"LATER, THE MANAGEMENT CALLED ME FROM THE TEST HALL AND THE TEACHERS OF THE DEPARTMENT ADMONISHED ME FOR COMING IN TO GIVE THE TEST. THEY TOLD ME THAT I AM NOT FIT FOR THE FIELD OF PSYCHOLOGY"

"MY FATHER USED HIS CONTACTS AND GOT IN TOUCH WITH THE GOVERNOR HOUSE, FOLLOWING WHICH I WAS ALLOWED TO GIVE THE TEST, ONE HOUR LATE"
Kinza has shed light on the fact that that minor disability of visual imparity should not be used to stop an individual from pursuing the career of his/her choice.
Kinza had exposed the university for the ordeal she faced, in a Facebook page and further appealed to social media to raise voice against the matter.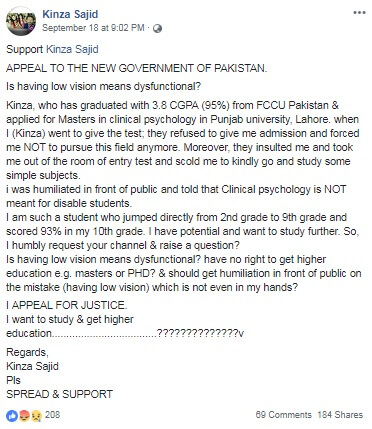 Watch the full interview here
https://www.facebook.com/just1lawtv/videos/1094654700685444/